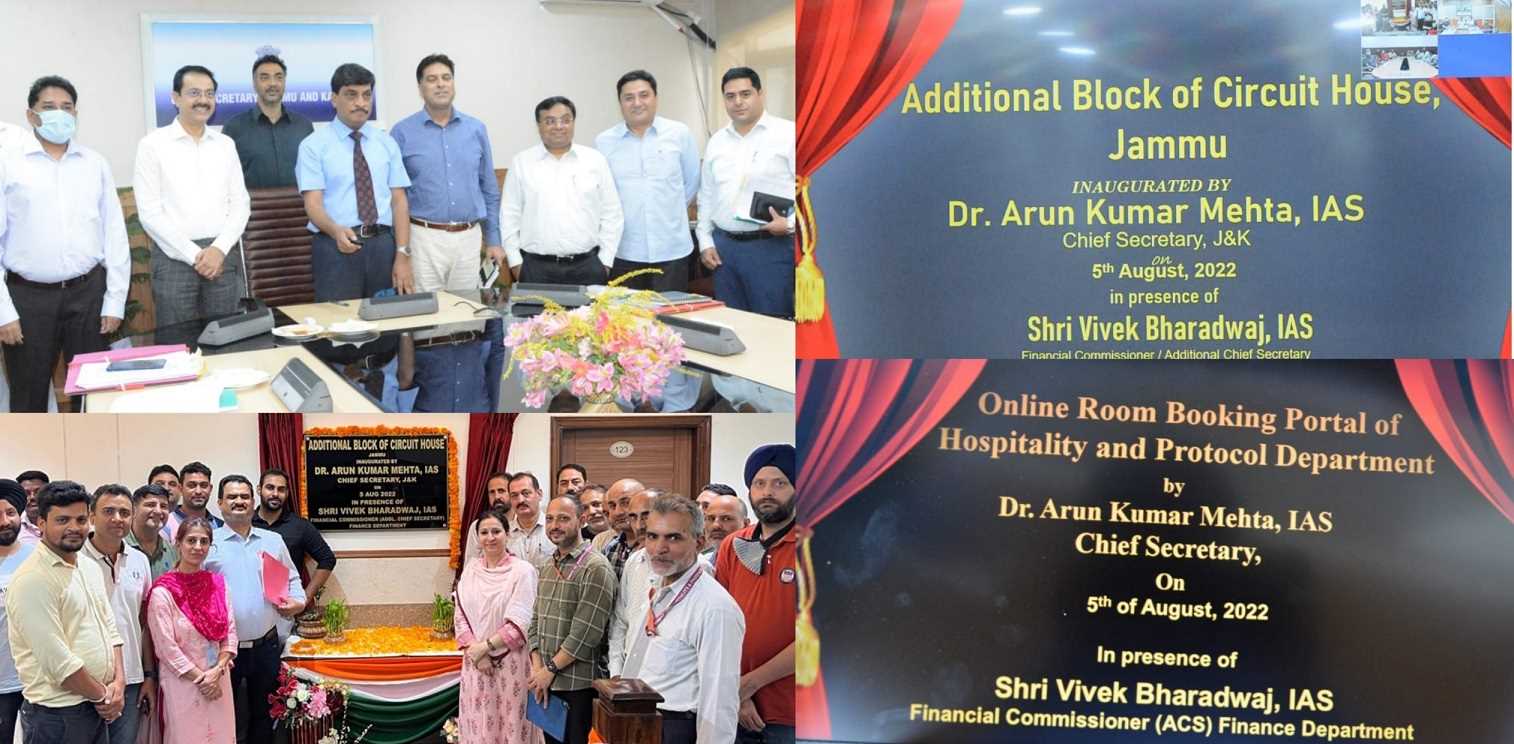 CS Mehta e-inaugurates the online portal of the H&P department
The Chief Secretary, Dr. Arun Kumar Mehta, today inaugurated the Hospitality and Protocol (H&P) Department's online room booking portal. It has also inaugurated an additional accommodation block at Circuit House Jammu. Additional Chief Secretary, Finance, Vivek Bhardwaj was also present on the occasion.
The online portal provides a booking system of H&P department circuit houses inside and outside Jammu and Kashmir. With the electronic inauguration of the online room reservation system, government employees and others can apply online for the reservation of circuit houses from a click of their mobile phones indoors and at outside of J&K.
The portal allows the online submission of reservation requests by agents/officials and citizens. Upon submission of the reservation request, an OTP is generated on the customer's mobile phone and the reservation is confirmed once the OTP is entered. Reservation details are sent to the customer's mobile phone.
The Chief Secretary appreciated the efforts of the hospitality and protocol department and said it was another feather in the journey of Digital Jammu and Kashmir. He expressed the hope that the new system will bring more transparency and fairness in the allocation system.
He also instructed relevant officers to maintain circuit house data online and continue to regularly assess circuit house requirements. He also called for maintenance and upkeep of circuit houses and other assets. He also insisted on the verification of the utilities of these assets on a daily basis by the concerned custodian.
Secretary Commissioner for Hospitality and Protocol Talat Parvez briefed the Chief Secretary on the online portal and said it has been fully integrated into RAS. He said the portal is very user-friendly and the confirmation status of the room booking is instantly reported to the requestor via SMS or Sandes app.
Giving details of the additional block at Circuit House, he said it consists of 2 suites and 12 very well furnished rooms. Work on the project was initiated by the executing agency PWD(R&B) Jammu in June 2019 and completed in June 2022. He informed that the total cost of the project was 660 lakhs but the total expenditure incurred upon completion of the block are 510.83. lakhs.