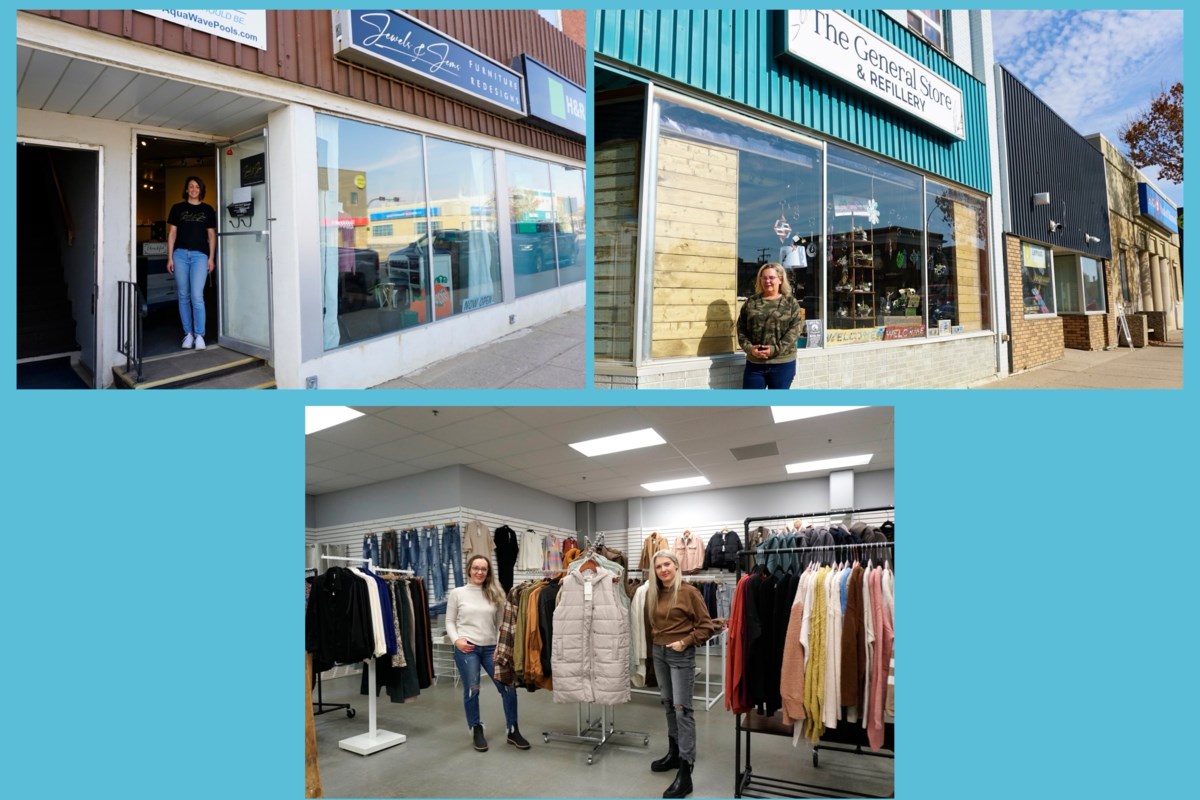 Estevan's small businesses grow with local support
Several small businesses in Estevan have recently moved locations, following their dreams, improving their spaces and expanding. They share their experiences.
ESTEVAN — Several small local businesses have recently moved locations, following their dreams, improving their spaces and expanding.
The Mercury spoke to some business owners who have recently moved on about their businesses, accomplishments, and plans.
Furniture redesign Jewels and Jems
New address – 1132 Fourth Street
Jewels and Jems Furniture Redesigns is approaching its second anniversary. The first stretch, a very busy time for them, culminated in moving to a new location, but staying in downtown Estevan.
They currently occupy the former South East Youth Employment Services space, and Daralee Kittelson, who owns and runs the business with Dorothy Tait as an employee helping her with various projects, said that they were pretty happy with their new store.
Kittleson noted that while they now had a little less space, for them this move was an improvement.
"It works very well for our retail business. The workshop in the back is a little smaller, but it works very well for us. It's better quality [for our needs]", said Kittelson. "And we wanted to be downtown for sure, so we kept our eyes peeled…And then this one became available and we just decided we could move in right away and that still works for space."
They are part of the Downtown Estevan Business Association and wanted to stay downtown because this partnership worked well for them. They signed the lease in September and officially opened on October 5.
When it first opened, Jewels and Jems offered furniture redesign and sign design workshops. They also sold refurbished furniture and accepted parts to be redone. Since then, their offer has expanded a bit.
Currently, they still have custom furniture, undertake projects, and offer seasonal and occasional workshops, but they have also expanded into kitchen cabinet refinishing, which has proven to be very popular with the community.
"We can step in and repaint your existing cabinets and give them a little update," Kittelson explained.
They also brought materials and products to sell that would allow people to work on their furniture redesign projects, whether it's something they started or learned in a workshop or something they want to do. by themselves.
"For people who want to redo [furniture] themselves, we offer a full line of furniture paint and all the accessories and brushes and everything that goes with it," Kittelson said.
They are currently booking Christmas redesign workshops and doing kitchen cabinet and furniture redesign projects.
Jewels and Jems Furniture Redesigns is open Wednesday through Saturday from 12 p.m. to 5 p.m. and by appointment only Monday and Tuesday.
The general store
New address – 1207 Fourth Street
After two years of operation in Estevan, The General Store reopened its doors at its new location, just across the street from where it used to be, on October 12, after a quick three-day move.
"It was crazy. We had so many people come out to help us. I couldn't have done it without the vendors, friends and family. It was amazing," said store owner Kendra Sutherland.
They now occupy the space that was previously occupied by Jewels and Jem Furniture Redesigns. The space is bigger than they used to have, and Sutherland said she had several ideas for the space, but she won't come to that until later.
"I have so many irons in the fire and I don't know which direction we're going to go yet," Sutherland said. "I'm going to try to make it through Christmas because we're always really busy. So get through this and regroup and see where we land. Because you have to constantly evolve."
The past two years have been successful for The General Store. They have grown to over 80 vendors, regularly offering their unique, mostly handcrafted products.
"Estevan is awesome. The people are awesome. Everyone is so supportive. It was great," Sutherland said.
Although there is some turnaround with suppliers, the volume of supplies remains fairly stable, she added.
"Usually every six months we have about 10 suppliers changing. And then around Christmas everyone wants to participate. We have supplier changes, but that's good because we need new things here. "
When the need to move arose, Sutherland knew she wanted to stay downtown, so she took whatever building was available at the time. She had to knock down walls to make the space fit her needs, but now the store looks good and is open to customers.
The general store offers a wide range of items, supplied by Saskatchewan home businesses and local artisans. They strive to mix up their offerings and be able to provide people with great gift ideas and items for many different occasions. They have everything from homemade food, jewelry, home decor, plants, candles, bath and body products, clothes, books, toys and so much more.
Pop-up vendors will also join them during the Christmas season.
The Estevan General Store is open Tuesday through Saturday from 10 a.m. to 5 p.m.
VS Style Store
New address – Estevan Market Mall, former Ardene store
For the owners of VS Style Boutique Online, Oksana Sych and Irina Vlezko, opening a real physical store has always been a dream and a goal. This fall, it became a reality when they opened a pop-up store at the Estevan Market mall.
The move came shortly after the first anniversary of their small business. At the beginning of October, they were able to welcome their first customers in the former Ardene space of the mall. The changes were made with the help and support of mall manager Arlene Stebeleski.
"Already last year, we were asking Arlene if there was a way to move to the mall. We're a small business, so we couldn't afford to take up a lot of space," Sych recalls. "And she came up with the idea of ​​dividing up the space to make it more affordable for small businesses as pop-up stores, and pitched that idea to her employers."
The project materialized this fall and VS Style Boutique was happy to be the first to seize the opportunity. Sych noted that Stebeleski not only helped them secure the space, but also worked with them to organize and fill it, providing shelving, shelving and everything else needed.
Sych and Vlezko from Estevan opened VS Style Boutique as an online women's clothing store last summer. Since then, the business has visited every corner of the Southeast, won the hearts of several local fashion merchants, and continued to grow and adapt to the needs of women in Saskatchewan, Canada, and the United States. United.
"We started with two clothes racks, and now we have seven that we take with us to different communities for pop-up stores at various events and locations…We also bought a van that we use to transport our collection We call it 'our bus'ik' [pet name, made of English bus and Ukrainian affectionate ending]", Vlezko said with a laugh.
They've put in endless hours over the past year and reinvested everything they earn to start their dream business, and now their hard work is starting to pay off. They receive orders from all over Canada and the United States, see some stability in their business and are finally able to pay themselves salaries.
"We travel a lot, and that helps growth," Vlezko said.
"But we also have our regular local customers, they call, ask, they really support us and it's amazing," added Sych. "We are really grateful for this support, for our local customers who accepted us. And we are really grateful to the mall and Arlene for helping us."
The owners hope for continued growth and stability in the future.
"Anything is possible, all you need is hard work, strong willpower and loving what you do," Vlezko said.
"And we really love what we do and do it with passion," Sych added. "And our husbands help and support us a lot."
VS Style Boutique opening hours vary from week to week. For more information and for their weekly updated collection, keep an eye on their Facebook page.