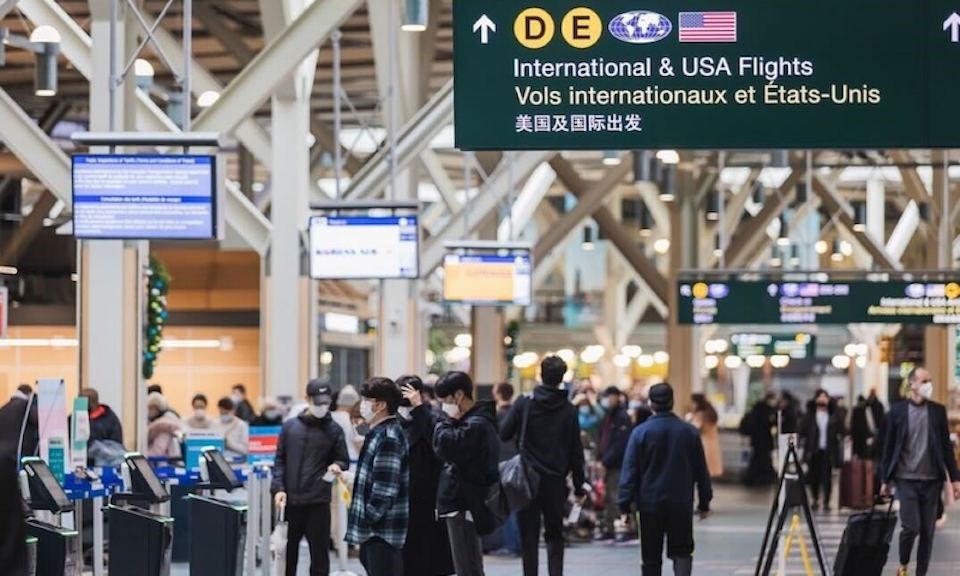 Flights to Vancouver: how to book secure seats with YVR
Air passengers traveling from Vancouver International Airport (YVR) to the United States can now reserve a seat in line at security screening.
On Wednesday, the airport announced its YVR Express program, which allows travelers to reserve a seat at the security checkpoint before their flight.
The airport says the new free program will help reduce wait times at security checkpoints and provide a "more balanced flow of passengers" through the security screening process. As a result, passengers and staff will enjoy a "more predictable experience" at the airport.
"Innovation continues to be one of our best tools in delivering an exceptional experience for our passengers at YVR," said Robyn McVicker, Vice President, Passenger Travel at Vancouver Airports Authority.
YVR partnered with Copenhagen Optimization and CLEAR to customize the program and worked with the Canadian Air Transport Security Authority (CATSA), the federal Crown corporation responsible for all passenger security screening, to implement the new program.
The airport plans to work with its partners in the coming months to expand the use of the program at its domestic and international security checkpoints, McVicker adds.
How to use the new program for YVR flights
Travelers can avoid lines at security by pre-booking a reservation through the YVR Express portal.
The portal will ask you to complete the following four steps to get started:
Flight information: travel date, flight destination, airline and flight number.

Group size: number of people in your group and meeting time. (Note: YVR will hold your slot for 15 minutes before or after your appointment time. However, you will need ample time to clear US Customs after security.)

E-mail

Verify that the information you provided is correct.
Once you have selected your booking time, a QR code will be sent to your email address which you will present to the airport staff at the security checkpoint within 15 minutes of the scheduled time.
YVR Express is currently available for travel within the United States with flights scheduled between 6:30 a.m. and 8:30 p.m. at Gates E of the airport. Travelers can schedule their appointment to go through security up to 72 hours before their flight's scheduled departure time or when they arrive at the airport, up to 90 minutes before departure time flight schedule.
Travelers using the new feature should check their baggage before going to the security checkpoint, then look for the YVR Express logo at E Security (US Departures).
Visit the YVR Express portal online to reserve a seat for the security check to travel to the United States
Vancouver International Airport Flight Delays
YVR has faced various operational challenges over the past year due to increased travel demand and post-pandemic labor shortages. From January to August, daily passenger volume increased by around 170% at the airport.
Many travelers expressed frustration and outrage in the spring and summer after long waits at Vancouver airport led to delayed or missed flights. Although conditions have improved in recent weeks, many travelers say they continue to experience significant baggage and flight delays.
Travelers who want to expedite their trip from YVR to the United States can also use a new app. The United States Customs and Border Protection (US CBP) has introduced mobile passport control, which allows travelers to submit information digitally before going through the border process. The MPC application can be downloaded for free from the Apple app store and google play.
Air passengers not flying to the United States can use CATSA's online tool to find out approximate airport wait times prior to departure.
Although travelers to Canada are no longer required to enter their information into the ArriveCAN app, they can save time at the border by using it. The app allows them to submit their customs declaration in advance.