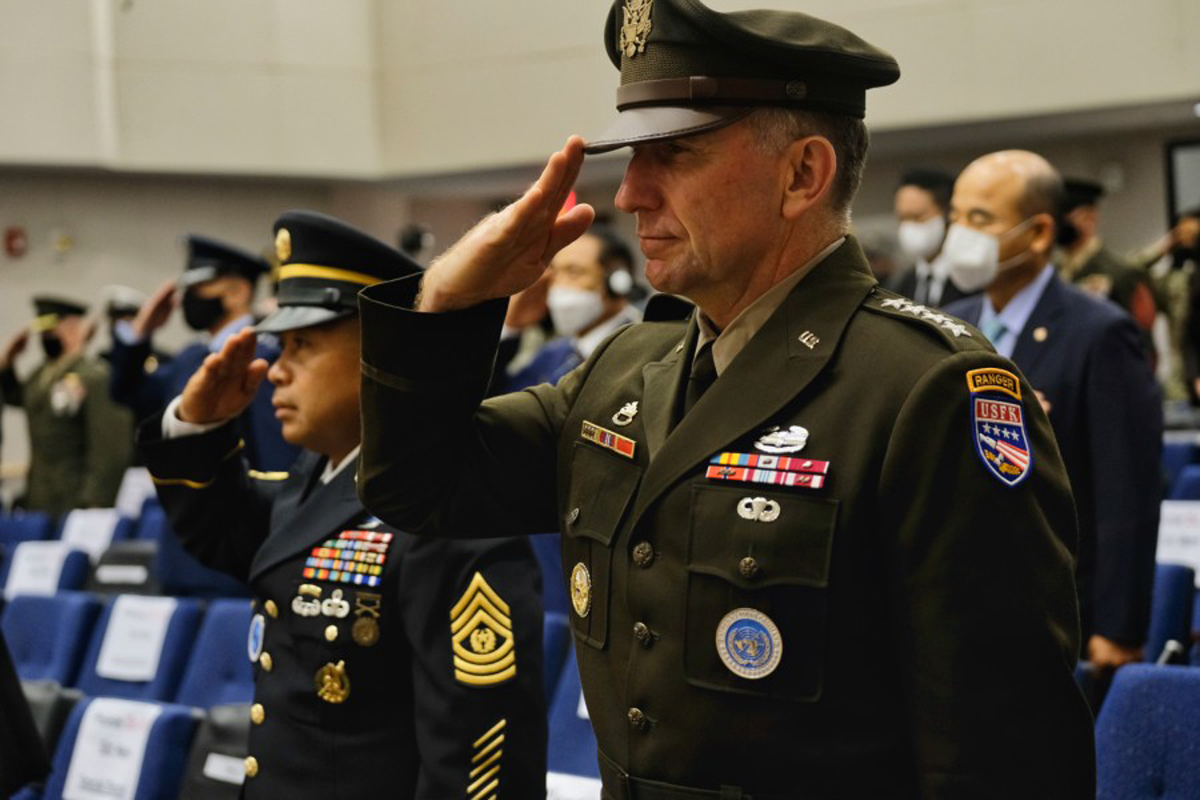 General Dons Army's new "Green" uniform to mark the 70th anniversary of the Korean War
[ad_1]
Army General Robert Abrams, head of US forces in Korea, donned the retro but newly authorized "green" uniform on Thursday for a ceremony marking the 70th anniversary of the start of the Korean War.
"Now some of you are already wondering – what uniform is General Abrams wearing? Some have accused me of being a Korean War reenactor," he laughed at the ceremony. commemoration at Humphreys Camp, Headquarters of the United States Forces in Korea (USFK).
Read more: F-35A Joint Strike Fighters banned from flying near lightning due to explosion issues
"It's the newly approved army green service uniform and will be necessary for the military for the next several years, "Abrams said of the olive jacket and pinkish pants.
"It was approved on June 1. I was waiting for the right opportunity for it to make its debut, and here it is," said Abrams, who is also head of the United Nations Command and Combined Forces Command.
News of the ceremony was posted on the Camp Humphreys Facebook site and first reported by Stars & Stripes.
The new uniform, inspired by the "pinks and greens" of World War II, was officially chosen by the army in 2018 to replace the Army Service Uniform (ASU). But the new version is known as "greens", instead of the old nickname.
The phased fit for soldiers is expected to be complete by 2027, but senior leaders, drill sergeants and others have already been allowed to wear it.
In his remarks, Abrams noted the continued strength of the US-Korean alliance and honored the dead of the 1950-53 war.
The alliance was "forged in the crucible of war and hardened by the bloodshed together," he said. "Together, together, we fought a brutal three-year war… to push back the forces of tyranny."
More than 245,000 South Korean soldiers, 36,000 American soldiers and 3,000 United Nations Command soldiers have been killed, Abrams said.
" Since [1953] the armistice, over 300 South Koreans and 62 Americans were lost in the ongoing deterrence and defense mission, "he added. "We remain ready to defend the Republic of Korea at all times.
– Richard Sisk can be reached at [email protected].
Related: Korean War: 70 Years Later, The 'Forgotten' Conflict Is Still Relevant For Veterans
View full article
© Copyright 2021 Military.com. All rights reserved. This material may not be published, broadcast, rewritten or redistributed.
[ad_2]