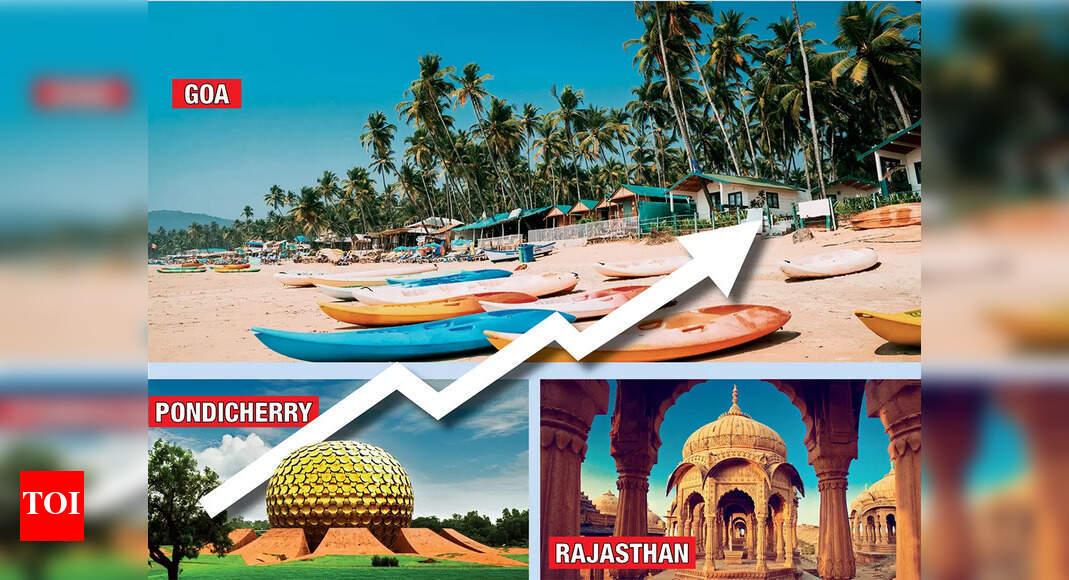 Himachal floods lead to drop in holiday bookings. Travelers abandon the hills for Goa and Pondicherry
What was otherwise considered a lean time for travel – the monsoon has been a surprisingly busy season this time around, with travelers opting for experiential stays, monsoon treks and game drives. While recent flooding in Himachal Pradesh has led to cancellations and postponements of travel plans, monsoon trips are at an all-time high. Whether it's changing vacation destinations or rescheduling dates, travelers may have been forced to make last-minute changes due to weather conditions, but they're in no mood to give up the travel. Tour operators say most booking cancellations this month are in Himachal Pradesh, particularly Manali, after reports of downpours in the village of Choj in the Parvati Valley, but other popular destinations this season are Goa, Udaipur and Pondicherry.
News of a downpour in the village of Choj in the Parvati Valley and flooding in the area has led to the cancellation of holiday bookings in Himachal Pradesh as travelers seek safer holiday destinations.
"Tourists seek safer travel options during monsoon"

A hotel owner from Manali says that shortly after a downpour was announced in Choj, a small village in Kullu, he had about five group cancellations. "Before the pandemic, we used to be prepared for the monsoon to be a lean season, but this year we had a good number of reservations and we were fully booked even for July, but after the news of the downpour, many reservations canceled or requested for later dates. Almost all hotels in Manali have faced cancellations in recent days. Tourists are looking for safer options to travel during the monsoon," says He. Many travelers have also cut their trips short. "I went to Kasol for a month, but I started getting calls from my family after I heard about the floods and started to panic. I came back on the 9th July and I got a partial refund for the rest of the days. For the rest of the month, I am looking for accommodation in Goa," says Delhi-based software engineer Nikita Verma. Marketing professional Prachi Sharma, who is planning to vacation near Shimla from July 8, postponed plans to a later date. "It's risky to go to the hills at the moment because you mainly have to cover the distance by road, so I'll wait and plan my trip after about a month, depending on weather conditions," she says.
According to travel agencies, Kerala, Goa, Tirupati, Udaipur, Pondicherry and Puri experience the highest travel demand during monsoon


"Travel sentiment continues to remain at an all-time high"

"Due to heavy rains, high winds and landslides, attendance has declined with 10-15% cancellations to Himachal Pradesh during the monsoon. Travelers seeking respite from the scorching heat prefer destinations such as Rajasthan, Gujarat and Goa from July to September. Accommodation options preferred by consumers include hotels and resorts," says Aditya Gupta, Senior Vice President, Hotels and Vacations, Yatra.com. Travelers who can't get reservations for hill stations are opting for beach destinations like Goa, Andamans or the backwaters of Kerala."Cycling trips and inland cruises are seeing a surge in demand. After a prolonged period of two years, Indians are inspired to take their much-needed vacations and despite rising fares, the sense of travel continues to remain at a record high. Our internal data indicates a 30-35% increase in demand month over month. Other destinations in demand are Shillong, Darjeeling, Gangtok, Ooty, Kodaikanal, Wayanad, Coorg and Munnar," says Daniel D'souza, President and Country Head – Holidays, SOTC Travel. "In June, we saw a strong increase in bookings in leisure destinations compared to June 2021, which speaks to growing consumer intent to travel. Overall, according to our June 2022 booking data, Goa, Tirupati, Udaipur, Pondicherry and Puri experience the highest travel demand during monsoon. While some of these destinations are known for their pleasant climate during the monsoon, others are popular off-season destinations for travelers looking for affordable and relatively quieter places. Over the past few months, we have also observed that travelers prefer to book stays that offer maximum flexibility in case of last-minute changes in their plans," adds an OYO spokesperson.
From desert safaris to spacations to exotic getaways, experiential vacations are in demand this season.
"Experiential stays are in demand this season"

Rajeev Kale, President and Country Head, Holidays, MICE, Visa, Thomas Cook (India) Limited, said: "Trends point to a growing preference for eclectic stays and unique accommodations like heritage bungalows, havelis, palaces, the forts, in the heart of a desert or bamboo grove. Indians are turning to authentic experiences like homestays with local families and sampling their cuisine, learning a regional art/skill and giving back to the community. With a growing demand for outdoor adventures, safaris are seeing an increasing demand. Travelers also request biking tours, monsoon treks, camping, rafting or sleeping under the stars in a private machan. The demand for car rides and wellness getaways continues to grow. "Guests are booking longer stays than shorter stays last year and are poised to increase their vacation spending by 20-30%," adds Daniel D'souza.