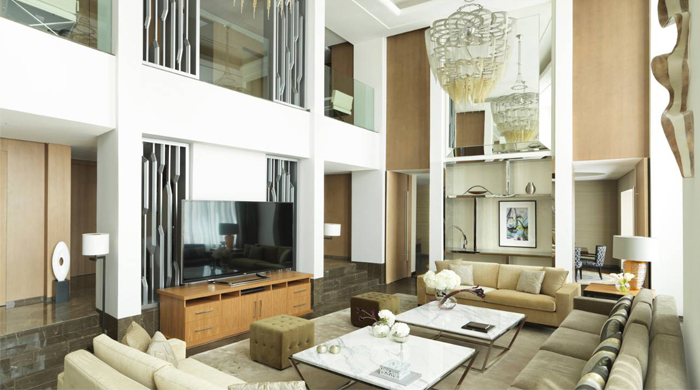 Kingdom Suite at Four Seasons Hotel Riyadh Unveiled, Saudi Arabia
Renovation work on the Four Seasons Hotel Riyadh at the Kingdom Center in Saudi Arabia was completed after approximately 18 months in the making. Following the completion of this work, the hotel unveiled Kingdom Suite, sa "Signature Suite". These new duplex suites extend from the 48th to the 50th floor of the hotel building.
The suite guarantees unobstructed city views and 330 square meters of palatial space for guests. In its main living space, the suite houses an impressive contemporary ceiling pendant.
Additional Features of the Kingdom Suite at Four Seasons Hotel Riyadh
Look for construction leads
Moreover, the Kingdom Suite at Four Seasons Hotel Riyadh features a 146-inch modular TV screen. The screen includes 16 Samsung LEDs. Further allowing customers to enjoy their favorite movies. The suite's design features soft blue tones and rust features. Moreover, it includes Saudi art objects selected by Alwaleed Philanthropies.
Also Read: 501-unit residential villa project launched in Tabouk City, Saudi Arabia
In addition to an elegant touch of luxury, the Kingdom Suite offers guests dedicated butler service, upon reservation. Therefore, customers will receive personalized services as well as attention to all requests.
Aim for it
Signature Suite
The senior general manager of the Four Seasons hotel commented on the Kingdom Suite at Four Seasons Hotel Riyadh project. Guenter Gebhard said the design of the Kingdom suite aims to interact with customers' senses. Additionally, he continued, the design of the suite also aims to create eloquent visual narratives that guests will remember long after their stay.
Guenter Gebhard concluded by saying that the Signature Suite prioritizes providing guests with the ultimate in luxury. Additionally, it aims to provide customers with the opportunity to take time to connect with family and/or friends along with timely experiences.
In addition to the Kingdom Suite, the Penthouse Suite is a highly anticipated addition to the Four Seasons portfolio.
If you have any remark or more information about this article, please let us know in the comments section below.