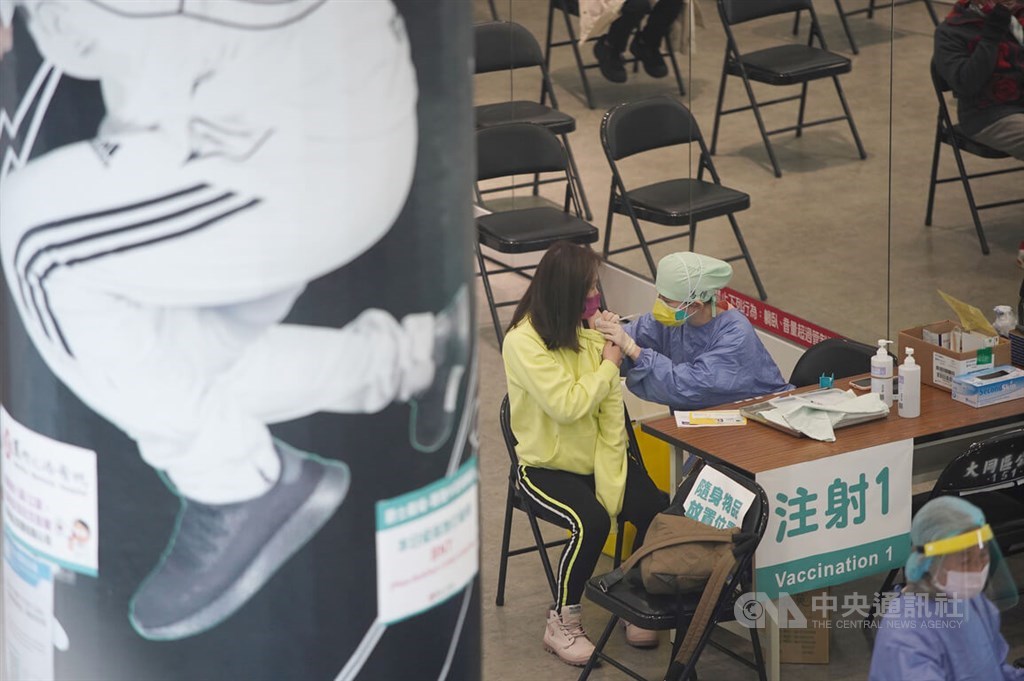 Taipei to provide additional 15,000 doses of Pfizer-BNT in final booking round
Taipei, May 17 (CNA) Taipei will release an additional 15,000 doses of the Pfizer-BioNTech (BNT) COVID-19 vaccine to the public on Wednesday after high demand in the latest round of bookings, according to the city's health department.
A total of 10,611 doses of the Pfizer-BNT vaccine were reserved in just under three hours after Taipei's 12th round of vaccination reservations opened on Tuesday, prompting the city to release an additional 15,000 doses of BNT, which can be booked Wednesday from 9 a.m. to 5 p.m.
The extra doses will be available from May 23 to 29 at Taipei Main Station, Songshan Subway Station and 16 hospitals across the city.
These include National Taiwan University Hospital, Taipei Chang Gung Memorial Hospital, Tri-Service General Hospital, Taipei Veterans General Hospital, Zhongxiao Branch of the Taipei Municipal Hospital, Zhongxing Branch of Taipei Municipal Hospital and Yangming Branch of Taipei Municipal Hospital, the city health ministry said. A declaration.
Taipei's 12th round of vaccination reservations, held on Tuesday and Wednesday, allows individuals to make an appointment to get vaccinated between May 23 and May 29.
● Map of disease control centers of hospitals and clinics offering COVID-19 vaccines (in Chinese)
According to the city's immunization reservation system, the BNT vaccine will be available to people age 12 and older as a first or second vaccine.
It will also be offered as a first booster shot to people aged 18 and over and as a second booster shot to people over 64, according to the booking system.
In addition to BNT, other brands of COVID-19 vaccines that are currently also available are Moderna and Medigen, the health department said.
Citizens of Taipei aged 65 and over who book their jabs through the current booking series will receive a gift voucher worth NT$1,000 (US$33.70), while non-Taipei residents of same age group will receive a voucher worth NT$500, according to the health department.
To date, 86.24% of Taiwan's population has received at least one dose of the COVID-19 vaccine, 81.06% has received at least two doses, while 63.32% has received a third injection, according to data from the Central Epidemic Command Center.
Related News
May 17: Taiwan reports 65,833 new cases of COVID-19, 38 deaths
May 16: Taiwan receives first shipment of Pfizer-BNT vaccines for children
May 14: Taiwan FDA reviews Novavax vaccine data following EUA request
May 9: Taiwan receives 1.85 million doses of Pfizer-BioNTech COVID vaccine
April 28: Taiwan signs new Pfizer-BioNTech vaccine agreement and approves its use for children
April 20: Taiwan approves Moderna vaccine for children ages 6-11