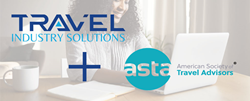 The American Society of Travel Advisors (ASTA) Enhances Its Member Advantage Program with Travel Industry Solutions Legal Contracts and Tools
"This historic partnership will help ASTA members quickly and easily mitigate risk and refocus on providing their customers with the highest quality of service," said Sheila Folk, CEO of TIS.

MAITLAND, Fla. (PRWEB)
October 26, 2022
Travel Industry Solutions (TIS), the first and only guaranteed legal contracts and waivers solution for travel agents, announces a new partnership with the American Society of Travel Advisors (ASTA), the world's leading association of travel professionals and the global industry advocate and traveling public. The two industry leading organizations have joined forces in their shared mission to provide and promote sound business practices.
US-based ASTA travel agents and agency members now have access to TIS's affordable and easy-to-implement legal agreements, such as terms and conditions, waivers, and other contracts necessary to manage travel. an agency protected through ASTA's Member Advantage program. This ensures that travel agents have on-demand access to affordable, up-to-date legal documents in one place. Additionally, ASTA members can leverage TIS' proven and innovative tools to create a profitable and sustainable agency.
Sheila Folk, CEO of Travel Industry Solutions, said, "This landmark partnership will help ASTA members easily and easily mitigate risk and refocus on providing their customers with the highest quality of service." She goes on to say, "We not only provide the most comprehensive and up-to-date legal agreements in the industry, but we also have a comprehensive suite of solutions and training that complements ASTA's extensive knowledge base on good practice manuals, procedures and guidelines."
Peter Lobasso, Senior Vice President and General Counsel at ASTA, said, "We are thrilled to add Travel Industry Solutions to our Member Advantage program and look forward to introducing their industry-leading tools to our members. Our shared mission to provide the travel industry with a standard of excellence in business practices and solutions that provide protections and increased profitability is what makes this partnership a win-win.
To further demonstrate their shared commitment to the travel advisor community, TIS and ASTA will be offering a limited time offer for agents and owners who are not yet members of either organization. Those who sign up for a Gold, Platinum, or Platinum Plus plan with TIS between November 1 and November 15, 2022 will receive a $175 credit for a one-year ASTA subscription. Interested agents can register online at https://travelindustrysolutions.com/ and use promo code GETASTA at checkout. They will then receive an authorization code to use when registering for a new ASTA Membership.
In addition to the new member offer, existing TIS and ASTA members will enjoy great savings on a new TIS or ASTA membership, and only need to log in to their respective member account portal for details. of the offer.
For more information on Travel Industry Solutions legal documentation solutions for travel advisors, please visit http://www.travelindustrysolutions.com or call 833.746.7272.
About Travel Industry Solutions | Travel Industry Solutions (TIS) is the leader in compliant contracts and out-of-the-box booking tools for travel agencies across the United States Founded by seasoned executives with decades of market experience, sales and from operations to legal and regulatory compliance, Solutions aims to help thousands of travel advisors and agency owners stay ahead of the curve with up-to-date contracts and easy-to-use tools. Its solutions are designed to help agencies increase revenue, save money, be more efficient and increase professionalism through optimized booking tools, customizable customer communication and guidance.
About ASTA | Renamed the American Society of Travel Advisors in 2018, ASTA is the world's leading advocate for travel advisors, the travel industry and the traveling public. Its members represent 80% of all travel sold in the United States through the travel agency distribution channel. With hundreds of members based internationally, ASTA's history of industry advocacy dates back to its founding in 1931, when it was launched with a mission to facilitate the sales business of travel through effective representation, knowledge sharing and improved professionalism. For more information about the Company, visit our mission statement. Consumers can contact an ASTA travel counselor at TravelSense.org.
Share the article on social networks or by e-mail: