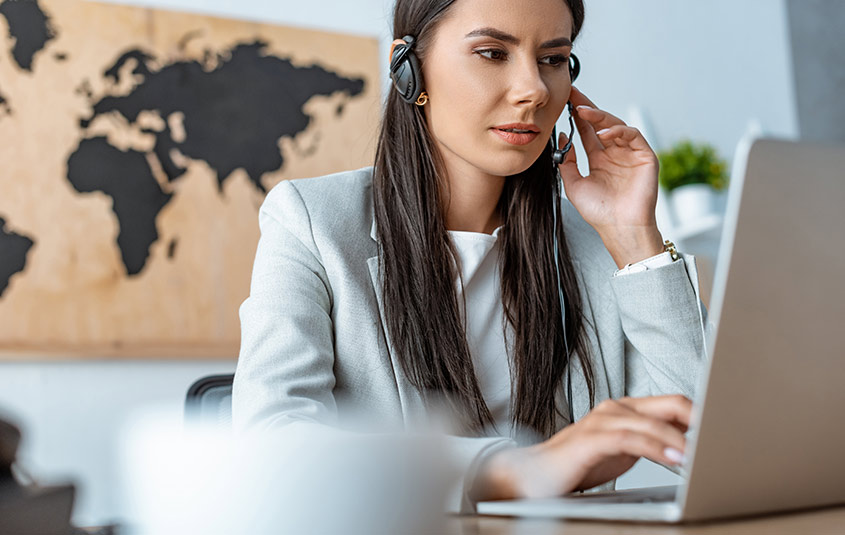 Wait Times and Self-Service Tools for Tour Operators and Airlines: What Agents Are Saying Now
That's partly thanks to vendor staffing, which is no small feat considering the industry had been virtually inactive for two years.
Suppliers have also made great strides with their online self-service tools, and travel advisors are making good use of them.
"THE BEST TO WORK WITH IN TERMS OF AVAILABILITY"
"I didn't have to wait [on hold] more than two hours in the last few weeks… that's a big step," says Caitlin Lajeunesse, a travel consultant based in Cambridge, Ontario, who is part of the Independent by Flight Center network.
She adds: "The self-service tools are very useful, and I appreciate that our travel partners are attentive to our needs. It would be nice to have more control over our reservations regarding changes (dates, room category, etc.) to further reduce the need to call, but we're getting there," she adds.
Tour operators and airlines have been at the forefront throughout the pandemic to promote the use of their self-service options, with more features than ever, as they encouraged agents to bypass blocked phone lines and to log in.
Just recently, VAC added more self-service options for agents to access reservations made online and in the call center for reservations in Mexico, the Caribbean, Las Vegas, Hawaii, California and in Orlando. ACV's additional self-service tools, as well as those launching in late 2021, are accessible through the ACV website and all external distribution channels, including Sirev, Galileo Vacations and Saber Vacations. Customers can also access their reservations directly online and modify certain elements of their reservation via the Manage your reservation page on aircanadavacations.com.
Another tour operator, Sunwing, launched improvements to its travel agent portal earlier this month. The portal, Sunwingagents.canow offers improved features and new tools.
Meanwhile, WestJet is seeing good use of its callback feature. WestJet Commercial Sales Manager Spencer Sorensen recently noted that call center wait times have "improved significantly, but there is still work to be done". More and more agents and consumers are choosing the callback option, and that's helping, he said.
Travel agent Jennifer Trofimuk of Planes, Trains & Kids Travel in Calgary was impressed with Sunwing's call center, noting that the tour "has been the best to work with in terms of availability."
And ACV's self-service tools have been a big help, she says. Even when the wait times were the toughest, "at least we could fill out the ACV cancellation form online, as well as use other self-help tools they have created".
Ashley Doell, a travel consultant based in Warman, Sask., says she finds wait times have dropped significantly. "Wait times are much better now. I find it's rare that you wait more than 30 minutes to speak to someone and in many cases it's less than 10 minutes which is great.
She adds, "WestJet's and WestJet Vacations call back features have really helped reduce wait times and manage business more efficiently. Sunwing has a great site for self bookings where you can add their insurance within 48 hours of booking, add special requests, and they also have a feature where you can add credits right in the booking screen, so I would say they have some of the best self-service options out there.
One area that still has frustrating turnaround times? Group bookings, and that's true for all tour operators, says Doell.
"It took 3-4 business days to get responses from the band reps, which is just not feasible when you're trying to start new bands or a new business," she says. "It took over a month to get just one group reservation number, and I'm still waiting for the other gateways and reservation numbers now."
And while staffed call centers have improved wait times across the industry, there are still a few hours of waiting.
Kathleen Penner of Ontario-based Plenty of Sunshine Travel says she's been on hold for several hours with an airline. When she finally succeeded, she ended up helping the brand new helpline agent. "She mentioned it was her second day. I was coaching her on how to do things. The total time (including time spent on hold) was over 9 hours!
WEB SEARCHES AND FACEBOOK GROUPS
Resourceful agents find workarounds to get their questions answered, when they can't find what they need using self-service tools.
Penner says she will search the web to find her answer. "I also ask other travel agents if they've dealt with a specific situation I'm facing and how it was handled. My host agency, Cruise CEO, has a very active Facebook group, and I don't never met such friendly and helpful agents before! They are always ready to help, and sometimes there is a message that they are calling a supplier, which has a very long wait time. They offer to ask questions while they have the phone agent on the line. That kind of help is great! Penner says.
Solidarity in the travel advisor community is invaluable, agrees Trofimuk. "I can tell you that as a community, agents are always helping each other out by posting on social media how long they've been waiting with a particular provider, or if they were able to get through immediately with little or no time. This information is tremendous to help us plan our workflow for the day."
Penner adds that other vendor resources are also helpful. "Royal Caribbean now has a list of FAQs and step-by-step documents highlighting ways to handle situations without calling. Many other cruise lines are starting to do the same," she says.
These are crazy times in the industry, but compared to most of the past two years, they are at least pretty crazy, as booking volumes are exploding. Penner retains her sense of perspective as she recalls the situation at the start of the pandemic. "For the first few weeks, I had my mobile and my landline on hold. I haven't had them both answer at the same time…yet!